Diffusion for Better Portraits
Diffused portrait. Notice the softness of the skin and how blemishes are diminished.
All photographers strive for crisp, sharp focus in his photos. They strive to capture every tiny detail and every texture the subject brings. However, there are times, when those details may not be wanted.
When doing portraits, you will soon find that there are things they want hidden – freckles, wrinkles, pimples, dry skin, stretch marks, and other skin blemishes. If you spend any amount of time taking portraits of women, you owe it to yourself to invest in a diffusion filter. Your subjects will love you for it.
A diffusion (or soft focus) filter softens smaller details, like wrinkles and skin blemishes, while leaving larger details such as the eyes sharp. This adds softness to your portrait, while letting the beauty shine through. With blemishes diminished, you are more free to shoot your portrait without trying to hide these details with make-up or other masking methods.
Don't confuse diffusion or "soft focus" with out of focus. The focus of your subject will be sharp. This effect can't be achieved by simply defocusing.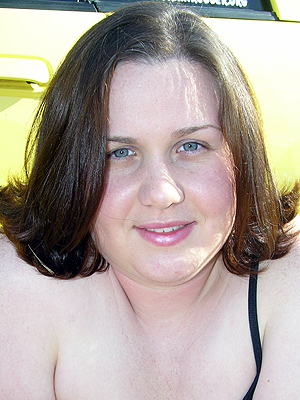 The same portrait before diffusion. The details are too harsh. Not that she's not beautiful, but she'll appreciate the top photo more with it's softer appeal.
Many diffusion filters, such as the Tiffen Gold Diffusion F/X 1 soft focus filter, also add warmth through gold plating, further bringing out the natural skin tones of your subjects.
When using a diffusion filter, use tight crops. A standing, full body shot does not work well with a diffusion filter, because the details in the portrait are too small and get lost in the diffusion. At most only use diffusion on waist up shots.
The diffused portrait on this page was not shot with a diffusion filter. Instead it was enhanced with a plug-in for the GIMP. Similar plug-ins can also be found for other graphics editors, such as Adobe Photoshop or JASC Paint Shop Pro. The plug-in for the GIMP allows you to control the size, intensity and levels of brightness for the effect. If you are shooting digitally, this plug-in may be more effective than an actual o- camera filter, as it offers more control and flexibility in the end product.
Other than buying a diffusion filter or using a software method, placing a stretched fine mesh stocking in front of the lens bends a certain percentage of the light forming the image from its original path and thus defocuses it. This is a great entry level way to play with diffusion. The finer the mesh, the better the effect will be.
Whichever way you perform the diffusion, you will find your subjects will admire the end product and thank you for making them beautiful.